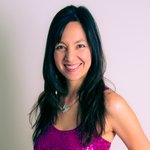 Gayle Midnight
http://www.gaylemidnight.com
Gayle Midnight is a professional artist who specializes in ethereal paintings that burst with color. Her artwork is heavily influenced by mythology, Asian and European culture, and her many globe-trekking adventures. She has lived abroad in both Italy and Japan, and has traveled extensively across 6 continents, roughly 50 countries, and over 400 cities.
Gayle has created work for clients such as Billabong, Natural Health magazine, Teen magazine, Bratz Dolls, Southern Bride magazine, the Santa Barbara Museum of Art, Pepperdine University, Whole Life Times, Tokyo Scene magazine, and the Los Angeles Dodgers, among many others. Her art has been published worldwide and exhibited in museums and galleries across the United States, Europe, and Asia.
Painting since age 5, Gayle later studied fine art at both Pepperdine University and the prestigious Studio Art Centers International in Florence, Italy. She went on to teach art for several years in Japan and California after completing graduate coursework in art education from the University of California at Santa Barbara. A prolific painter with a massive body of work, Gayle recently completed the Daily Paintress project, where she painted over 100 paintings in 10 months. She currently maintains a studio in San Francisco.
Read more