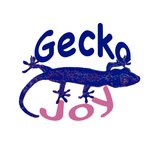 Geckojoy
Artist in love with nature, animals, travel, dripping paint and Photoshop Contact geckojoy@geckojoy.com Geckojoy (a.k.a. Joy Salmon) is a self-taught artist living in Singapore. To eat, she's worked in journalism, public relations and currently trains people to do the same. To stay alive she paints, takes photographs and sometimes recreates the results digitally. She also writes and illustrates books and is currently working on a novel. Animals, nature and travel inspire her daily, as do long walks and hikes with her dog Truffles in Singapore's remaining forests. As a journalist, her coverage of environmental news garnered her the STAR Waves Ocean Ambassador Award, for Environmental Journalism in 2002. She brings the same love of all things green to her current artistic and literary endeavours. Her art has been featured on several online platforms including Pantone Canvas. Find her online Website: https://www.geckojoy.com Facebook: https://www.facebook.com/geckojoy Twitter: https://twitter.com/geckojoy5 Instagram: https://www.instagram.com/geckojoy5/ Pinterest: https://www.pinterest.com/geckojoy Behance: https://www.behance.net/geckojoy009b Geckojoy joined Society6 on December 31, 2014
More
Artist in love with nature, animals, travel, dripping paint and Photoshop Contact geckojoy@geckojoy.com
Geckojoy (a.k.a. Joy Salmon) is a self-taught artist living in Singapore. To eat, she's worked in journalism, public relations and currently trains people to do the same. To stay alive she paints, takes photographs and sometimes recreates the results digitally. She also writes and illustrates books and is currently working on a novel.
Animals, nature and travel inspire her daily, as do long walks and hikes with her dog Truffles in Singapore's remaining forests. As a journalist, her coverage of environmental news garnered her the STAR Waves Ocean Ambassador Award, for Environmental Journalism in 2002. She brings the same love of all things green to her current artistic and literary endeavours.
Her art has been featured on several online platforms including Pantone Canvas.
Find her online Website: https://www.geckojoy.com
Facebook: https://www.facebook.com/geckojoy Twitter: https://twitter.com/geckojoy5 Instagram: https://www.instagram.com/geckojoy5/ Pinterest: https://www.pinterest.com/geckojoy Behance: https://www.behance.net/geckojoy009b
Geckojoy joined Society6 on December 31, 2014.