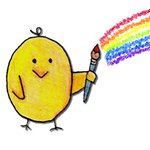 gemgirlart
Self-taught mixed media collage artist who enjoys all things made of or from paint & paper, scissors & glue. Loves nothing better than a blank piece of paper and a nice big block of quiet time to give life to the things that live in the imagination ... I tend toward vibrant colors and happy themes in my watercolors & doodleart pieces - but let my darker, mysterious (and, mildly creepy) side take over for my collage paintings. Being a typical Gemini (yep, thats where my name comes from), I'm used to having a dual nature in most things - my art is definitely included! you can find me elsewhere at: [twitter] https://twitter.com/gemgirlart [facebook] https://www.facebook.com/gemgirlart [instagram] http://instagram.com/gemgirlartist [etsy] https://www.etsy.com/shop/gemgirlart [blog] http://gemgirlart.com/ gemgirlart joined Society6 on July 28, 2013
More
Self-taught mixed media collage artist who enjoys all things made of or from paint & paper, scissors & glue. Loves nothing better than a blank piece of paper and a nice big block of quiet time to give life to the things that live in the imagination ...
I tend toward vibrant colors and happy themes in my watercolors & doodleart pieces - but let my darker, mysterious (and, mildly creepy) side take over for my collage paintings. Being a typical Gemini (yep, thats where my name comes from), I'm used to having a dual nature in most things - my art is definitely included!
you can find me elsewhere at: [twitter] https://twitter.com/gemgirlart [facebook] https://www.facebook.com/gemgirlart [instagram] http://instagram.com/gemgirlartist [etsy] https://www.etsy.com/shop/gemgirlart [blog] http://gemgirlart.com/
gemgirlart joined Society6 on July 28, 2013.