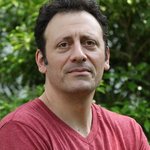 Gene Mollica
I'm a photo-illustrator specializing in fantastical and otherworldly images for the entertainment industry, most frequently for book covers. Originally a painter (RISD grad '90), I made the switch to digital media in graduate school (School of Visual Arts '01). It was a daunting transition at first but now it's an equally obsessive process. Creating images that the authors feel translates their original vision and offering a window into that world for the reader is as much fun as I've ever had. My work has appeared on the covers of books by authors like L.A. Banks, Patricia Briggs, Jennifer Lee Carrell, C.S. Harris, Barb Hendee, Conn Iggulden, Caitlin Kiernan, J.F. Lewis, Richelle Mead, C.E. Murphy, Brian Ruckley, and Thomas Sniegoski among many amazing others. I live and work in Maplewood NJ with my wife, daughter. Gene Mollica joined Society6 on April 12, 2014
More
I'm a photo-illustrator specializing in fantastical and otherworldly images for the entertainment industry, most frequently for book covers. Originally a painter (RISD grad '90), I made the switch to digital media in graduate school (School of Visual Arts '01). It was a daunting transition at first but now it's an equally obsessive process. Creating images that the authors feel translates their original vision and offering a window into that world for the reader is as much fun as I've ever had.
My work has appeared on the covers of books by authors like L.A. Banks, Patricia Briggs, Jennifer Lee Carrell, C.S. Harris, Barb Hendee, Conn Iggulden, Caitlin Kiernan, J.F. Lewis, Richelle Mead, C.E. Murphy, Brian Ruckley, and Thomas Sniegoski among many amazing others.
I live and work in Maplewood NJ with my wife, daughter.
Gene Mollica joined Society6 on April 12, 2014.
Gene Mollica's Store
20 results
Filter