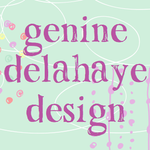 Genine Delahaye
Hello and welcome to my shop! I am a freelance designer specialising in the Childrenswear, home and stationery markets. The designs on my shop are exclusive to me and Society6 and are part of my new collection. Please feel free to check out my blog at - http://geninedelahaye.blogspot.co.uk/ to keep up to date with my work. Thanks for looking! have a great day :-) Genine Delahaye joined Society6 on May 22, 2013
More
Hello and welcome to my shop! I am a freelance designer specialising in the Childrenswear, home and stationery markets. The designs on my shop are exclusive to me and Society6 and are part of my new collection. Please feel free to check out my blog at - http://geninedelahaye.blogspot.co.uk/ to keep up to date with my work.
Thanks for looking! have a great day :-)
Genine Delahaye joined Society6 on May 22, 2013.