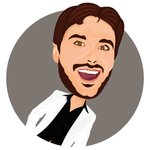 G.B. Designs
I have been working as a chemistry teacher for 15 years and as an illustrator-graphic designer for 6 years, since I graduated from art & design college. For some time I worked as a teacher in a graphic design college but my true passion is illustrations. I find myself learning new things and techniques with each project I create. You can connect with me on social media: https://www.facebook.com/GeorgeBarakoukakisDesigns/?ref=bookmarks https://www.instagram.com/george_barakoukakis/ https://twitter.com/GeorgeBarak https://gr.pinterest.com/georgebarak/ https://www.behance.net/GeorgeBarakoukakis https://www.youtube.com/channel/UCTLJmYRIGfrvWm_LAaQB1lw https://www.curioos.com/GeorgeBarakoukakis G.B. Designs joined Society6 on April 5, 2015
More
I have been working as a chemistry teacher for 15 years and as an illustrator-graphic designer for 6 years, since I graduated from art & design college.
For some time I worked as a teacher in a graphic design college but my true passion is illustrations. I find myself learning new things and techniques with each project I create.
You can connect with me on social media:
https://www.facebook.com/GeorgeBarakoukakisDesigns/?ref=bookmarks https://www.instagram.com/george_barakoukakis/ https://twitter.com/GeorgeBarak https://gr.pinterest.com/georgebarak/ https://www.behance.net/GeorgeBarakoukakis https://www.youtube.com/channel/UCTLJmYRIGfrvWm_LAaQB1lw https://www.curioos.com/GeorgeBarakoukakis
G.B. Designs joined Society6 on April 5, 2015.