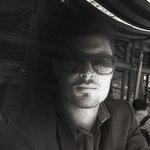 georgetsak
Hi everyone, My name is George and I'm an artist and designer from Thessaloniki,Greece. I spent the last 3 years in Melbourne and I'm so excited about that because I met new people, a different culture and made new friends. I like to draw anything that inspires me. Landscape, sightseeing, portraits are some of the stuff I like to draw. Photography is another passion of me as well that I turned into a job. I'm constantly working on new stuff… georgetsak joined Society6 on January 16, 2017
More
Hi everyone,
My name is George and I'm an artist and designer from Thessaloniki,Greece. I spent the last 3 years in Melbourne and I'm so excited about that because I met new people, a different culture and made new friends. I like to draw anything that inspires me. Landscape, sightseeing, portraits are some of the stuff I like to draw. Photography is another passion of me as well that I turned into a job.
I'm constantly working on new stuff…
georgetsak joined Society6 on January 16, 2017.