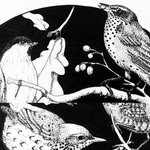 georginemakes
Georgine is an Illustrator, Designer and Maker living and working in Bath, UK. She graduated from Bath Spa School of Art & Design in 2015 and has since worked in the print and design industry in the South UK. She has a passion for drawing and is inspired by the simple beauty of local wildlife and folklore. She loves to see a happy customer, so please share your photos by email or tag her on Instagram. website :: www.georgine-makes.com instagram :: www.instagram.com/georginemakes twitter :: www.twitter.com/georginemakes tumblr :: www.georginemakes.tumblr.com georginemakes joined Society6 on January 17, 2016
More
Georgine is an Illustrator, Designer and Maker living and working in Bath, UK.
She graduated from Bath Spa School of Art & Design in 2015 and has since worked in the print and design industry in the South UK. She has a passion for drawing and is inspired by the simple beauty of local wildlife and folklore.
She loves to see a happy customer, so please share your photos by email or tag her on Instagram.
website :: www.georgine-makes.com instagram :: www.instagram.com/georginemakes twitter :: www.twitter.com/georginemakes tumblr :: www.georginemakes.tumblr.com
georginemakes joined Society6 on January 17, 2016.