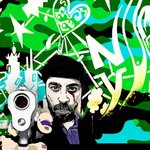 Gerard Marinaccio
My name is Gerard Marinaccio I grew up in Little Italy New York. I have always been low key about my Art, my whole life. I kept it a secret. It is not easy growing up in a neighborhood like that - being an artist, wanted to create and hangout with other artist. I didn't understand what was wrong with me. I saw things differently than most people. Weird for me. I loved sitting in St Patricks Church and looking at the stain glass windows. Dreaming that my paintings will hang in there one day. I love the whole telling storys with paintings. Being a creative person is not always easy. Life tends to strangle you. People from my neighborhood would not really accept it. They didn't understand it..Neither did I. My father would say : "Get a Job! Go to work! "Art is for the rich people not for you", but I never lost faith and kept creating, and creating, and creating.. I cant help it. I met people that helped me, who encouraged me. People that pushed me to pursue my dreams. I had to accept that this is who I am. For the last 9 years I worked as a Longshoreman on the docks. Not Easy! Not My Dream!!! I have faith that my art will be shown. I hope that people will understand my work and want more. I like to refer my Art as a MODERN-DAY-CALLIGRAPHY. I create pictures within pictures within pictures in a story line format. My compositions express my Journeys, pain, joy, and prayers on scraps of wood and metal. The mediums that I work with are ; marker, spray paint, acrylic paint, watercolor, acrylic markers, gold leafing, oil markers and pastels. I have also worked on concrete walls with multiple mediums. I show my Art in underground spaces primarily in downtown Manhattan and have a substantial following since 1995. I have participated in over 30 shows between the years 2000 and 2014. Check out my website. Gmarinaccio.com Gerard Marinaccio joined Society6 on September 5, 2014
More
My name is Gerard Marinaccio I grew up in Little Italy New York. I have always been low key about my Art, my whole life. I kept it a secret. It is not easy growing up in a neighborhood like that - being an artist, wanted to create and hangout with other artist. I didn't understand what was wrong with me. I saw things differently than most people. Weird for me. I loved sitting in St Patricks Church and looking at the stain glass windows. Dreaming that my paintings will hang in there one day. I love the whole telling storys with paintings. Being a creative person is not always easy. Life tends to strangle you.
People from my neighborhood would not really accept it. They didn't understand it..Neither did I. My father would say : "Get a Job! Go to work! "Art is for the rich people not for you", but I never lost faith and kept creating, and creating, and creating.. I cant help it. I met people that helped me, who encouraged me. People that pushed me to pursue my dreams. I had to accept that this is who I am. For the last 9 years I worked as a Longshoreman on the docks. Not Easy! Not My Dream!!! I have faith that my art will be shown. I hope that people will understand my work and want more. I like to refer my Art as a MODERN-DAY-CALLIGRAPHY. I create pictures within pictures within pictures in a story line format. My compositions express my Journeys, pain, joy, and prayers on scraps of wood and metal.
The mediums that I work with are ; marker, spray paint, acrylic paint, watercolor, acrylic markers, gold leafing, oil markers and pastels. I have also worked on concrete walls with multiple mediums. I show my Art in underground spaces primarily in downtown Manhattan and have a substantial following since 1995. I have participated in over 30 shows between the years 2000 and 2014.
Check out my website. Gmarinaccio.com
Gerard Marinaccio joined Society6 on September 5, 2014.