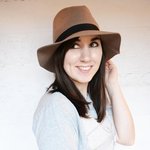 Get It Girl Designs
Designed by Allyson Johnson, Get It Girl Designs is a shop geared toward the working girl, the fitness girl, and the lady entrepreneur. From sassy mugs to bold decor, fitness inspired shirts and leggings, there's something here for every Boss Lady. Allyson runs her main shop here featuring a wide variety of artwork and designs: https://society6.com/allyjcat She created this shop separate because she wants everything to have it's own little space. :) Get It Girl Designs joined Society6 on April 27, 2016
More
Designed by Allyson Johnson, Get It Girl Designs is a shop geared toward the working girl, the fitness girl, and the lady entrepreneur. From sassy mugs to bold decor, fitness inspired shirts and leggings, there's something here for every Boss Lady.
Allyson runs her main shop here featuring a wide variety of artwork and designs: https://society6.com/allyjcat
She created this shop separate because she wants everything to have it's own little space. :)
Get It Girl Designs joined Society6 on April 27, 2016.