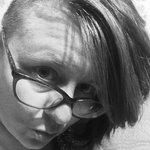 ghennah
My art is a little bit of everything. I'm a squiggly line, I'm all over the place. I like to design stuff that is simple, modern and graphic. AND I like to draw cute little children's characters as much as I like to draw creepy, whimsical stuff. I use watercolor, ink and adobe creative suite on a lot of my stuff. I dabble in photography on a true amateur level and enjoy making repeat patterns from the photos. I do: http://www.instagram.com/ghennah https://www.facebook.com/ghennah222 http://www.spoonflower.com/profiles/ghennah http://www.pinterest.com/ghennah/ I even sometimes blog http://doodlebabble.blogspot.com Thanks for checking out my stuff! ghennah joined Society6 on November 16, 2013
More
My art is a little bit of everything. I'm a squiggly line, I'm all over the place. I like to design stuff that is simple, modern and graphic. AND I like to draw cute little children's characters as much as I like to draw creepy, whimsical stuff. I use watercolor, ink and adobe creative suite on a lot of my stuff. I dabble in photography on a true amateur level and enjoy making repeat patterns from the photos.
I do: http://www.instagram.com/ghennah https://www.facebook.com/ghennah222 http://www.spoonflower.com/profiles/ghennah http://www.pinterest.com/ghennah/
I even sometimes blog http://doodlebabble.blogspot.com
Thanks for checking out my stuff!
ghennah joined Society6 on November 16, 2013.