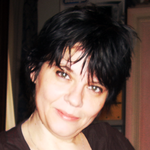 Giada Rossi
I am an Italy based Fine Artist specializing in digital painting, photomontage techniques and photography as well. My works cover a large pallette of themes, among them are abstract art, spiritual art (mandala art, healing art, optimistical art, religious and/or philosophical themes , hinduism, buddhism), art for kids, fantasy and surrealism. PORTFOLIO: http://1-giada-rossi.pixels.com Fan page Facebook: https://www.facebook.com/rgiadasfineart Twitter: https://twitter.com/rgiada17 Linkedin: https://it.linkedin.com/pub/rossi-giada/95/2b9/7b3 ONLINE SHOPS: http://1-giada-rossi.pixels.com https://crated.com/rgiada https://society6.com/giadarossi http://www.cafepress.com/RGiadasPlanet http://www.artsadd.com/store/rgiada http://shopvida.com/collections/giada-rossi https://www.teepublic.com/user/rgiada Giada Rossi joined Society6 on November 11, 2013
More
I am an Italy based Fine Artist specializing in digital painting, photomontage techniques and photography as well. My works cover a large pallette of themes, among them are abstract art, spiritual art (mandala art, healing art, optimistical art, religious and/or philosophical themes , hinduism, buddhism), art for kids, fantasy and surrealism.
PORTFOLIO: http://1-giada-rossi.pixels.com Fan page Facebook: https://www.facebook.com/rgiadasfineart Twitter: https://twitter.com/rgiada17 Linkedin: https://it.linkedin.com/pub/rossi-giada/95/2b9/7b3
ONLINE SHOPS: http://1-giada-rossi.pixels.com https://crated.com/rgiada https://society6.com/giadarossi http://www.cafepress.com/RGiadasPlanet http://www.artsadd.com/store/rgiada http://shopvida.com/collections/giada-rossi https://www.teepublic.com/user/rgiada
Giada Rossi joined Society6 on November 11, 2013.