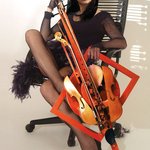 Gina Brezini
Born and raised in Bulgaria, Gina Brezini lives and works in New York City. Her formal artistic training began at age 12, followed by studies at The National Academy of Fine Arts in Sofia. She left communist Bulgaria in hope for freedom of expression, finding it in her new home—New York. For many years she persisted in practicing her art, despite the struggles she faced in adapting to a new country and a new culture. Her determination paid off when she began exhibiting her work in galleries in New York, Los Angeles, San Francisco, Tokyo, India and Europe. The art of Gina Brezini has been acknowledged at home and abroad. She is the recipient of first prizes at the Biennales in Italy and Austria. Her painting "Memoirs of the Flesh" was awarded The Golden Canvas Award for 2011 from the Fédération Nationale de la Culture Française. Gina Brezini has also exhibited in Venice, London, Monaco, Spain, Italy and Paris, France. She has shown her art in The National Museum of Women in the Arts in Washington. Gina Brezini's artworks are in many public, corporate and private collections around the world. Some of her paintings are included in the permanent collections of European museums. Her bibliographic accomplishments include: DUS MAHAVIDYAS: TEN CREATIVE FORCES, a book of works from the 2008-2009 exhibitions in galleries in Delhi, Mumbai and Bangalore featuring a project focused on ten women artists. Gina Brezini was the only foreign artist selected for this unique and exciting project. In 2009 Elite Art Publishing in Paris released the monograph PORTRAITS OF THE SOUL featuring her art, with an introduction by Nicolas Bourriaud, co-founder of Palais de Tokyo in Paris. Gina Brezini joined Society6 on April 7, 2016
More
Born and raised in Bulgaria, Gina Brezini lives and works in New York City. Her formal artistic training began at age 12, followed by studies at The National Academy of Fine Arts in Sofia. She left communist Bulgaria in hope for freedom of expression, finding it in her new home—New York. For many years she persisted in practicing her art, despite the struggles she faced in adapting to a new country and a new culture. Her determination paid off when she began exhibiting her work in galleries in New York, Los Angeles, San Francisco, Tokyo, India and Europe.
The art of Gina Brezini has been acknowledged at home and abroad. She is the recipient of first prizes at the Biennales in Italy and Austria. Her painting "Memoirs of the Flesh" was awarded The Golden Canvas Award for 2011 from the Fédération Nationale de la Culture Française.
Gina Brezini has also exhibited in Venice, London, Monaco, Spain, Italy and Paris, France. She has shown her art in The National Museum of Women in the Arts in Washington.
Gina Brezini's artworks are in many public, corporate and private collections around the world. Some of her paintings are included in the permanent collections of European museums.
Her bibliographic accomplishments include:
DUS MAHAVIDYAS: TEN CREATIVE FORCES, a book of works from the 2008-2009 exhibitions in galleries in Delhi, Mumbai and Bangalore featuring a project focused on ten women artists. Gina Brezini was the only foreign artist selected for this unique and exciting project.
In 2009 Elite Art Publishing in Paris released the monograph PORTRAITS OF THE SOUL featuring her art, with an introduction by Nicolas Bourriaud, co-founder of Palais de Tokyo in Paris.
Gina Brezini joined Society6 on April 7, 2016.
Gina Brezini's Store
108 results
Filter