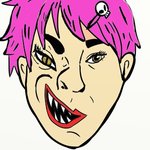 Gin and Cats
Yo. This is Gin and Cats My name in Gin and I "share" this account with my cat (Snapple). My entire collection of art is called "Last Year Art" I'm a high school student with a passion for art. I started drawing in 5th grade, and have kept at it since. It's been an important part of my recovery from depression and helps with my anxiety. I'd love it if you'd look at my designs and maybe even buy one or more if you like them. It'll be a pleasure working with you! Thank you! Gin and Cats joined Society6 on January 6, 2015
More
Yo. This is Gin and Cats
My name in Gin and I "share" this account with my cat (Snapple).
My entire collection of art is called "Last Year Art"
I'm a high school student with a passion for art. I started drawing in 5th grade, and have kept at it since. It's been an important part of my recovery from depression and helps with my anxiety. I'd love it if you'd look at my designs and maybe even buy one or more if you like them.
It'll be a pleasure working with you!
Thank you!
Gin and Cats joined Society6 on January 6, 2015.
Gin and Cats's Store
340 results
Filter