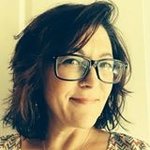 Ginger McGee
I am a creative soul with a passion for making things that I hope matter. My creations run the gamut between poems, essays, and novels to jewelry, paintings and kids (I had to throw that one in there since I consider them my best creations of all!). I'm a certified word nerd who enjoys nothing more than finding the perfect word – which sometimes means making one up! I am on a journey to live deliberately – like Thoreau minus the woods. I have nothing against the woods, but I do enjoy my modern conveniences. My favorite poem is The Love Song of J. Alfred Prufrock. And I imagine that one day I, too, will worry about important stuff like eating peaches and rolling up my trousers. Although I don't really like peaches and I prefer skirts over trousers. I have five rescue animals (3 dogs – 2 cats) who rescue me every day. The dogs are on rotation and each one gets the opportunity to sleep in the bed – one at a time. This special time has come to be known as Forever Night. I am the only sparkle in a house of Nerf enthusiasts – unless you count the four-footers who are all of the female persuasion. They are a bit hairier than me (at least for now) so their sparkle is not as glimmery as mine. But I don't hold that against them. My two boys are the light of my life most days and the pain in my rear the other days, but nothing that a glass of wine and a soak in the tub can't handle. Then there's my husband – the boy who puts up with all my crazy and loves me besides. Bless him. Most days we just get by, scraping our hearts and egos here and there. But then there are the days when we soar and show the world the true meaning of family. Those are the days that make the others okay. Those are the days when I am pretty sure that this life of mine is a little piece of heaven. Visit my blog: apurplepatchlife.com Ginger McGee joined Society6 on September 21, 2014
More
I am a creative soul with a passion for making things that I hope matter. My creations run the gamut between poems, essays, and novels to jewelry, paintings and kids (I had to throw that one in there since I consider them my best creations of all!).
I'm a certified word nerd who enjoys nothing more than finding the perfect word – which sometimes means making one up! I am on a journey to live deliberately – like Thoreau minus the woods. I have nothing against the woods, but I do enjoy my modern conveniences. My favorite poem is The Love Song of J. Alfred Prufrock. And I imagine that one day I, too, will worry about important stuff like eating peaches and rolling up my trousers. Although I don't really like peaches and I prefer skirts over trousers.
I have five rescue animals (3 dogs – 2 cats) who rescue me every day. The dogs are on rotation and each one gets the opportunity to sleep in the bed – one at a time. This special time has come to be known as Forever Night.
I am the only sparkle in a house of Nerf enthusiasts – unless you count the four-footers who are all of the female persuasion. They are a bit hairier than me (at least for now) so their sparkle is not as glimmery as mine. But I don't hold that against them.
My two boys are the light of my life most days and the pain in my rear the other days, but nothing that a glass of wine and a soak in the tub can't handle. Then there's my husband – the boy who puts up with all my crazy and loves me besides. Bless him.
Most days we just get by, scraping our hearts and egos here and there. But then there are the days when we soar and show the world the true meaning of family. Those are the days that make the others okay. Those are the days when I am pretty sure that this life of mine is a little piece of heaven.
Visit my blog: apurplepatchlife.com
Ginger McGee joined Society6 on September 21, 2014.
Ginger McGee 's Store
17 results
Filter