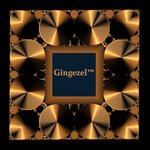 Gingezel
Share the Joy of Creating Beauty! At Gingezel we are inspired by the synergy between mathematics and nature. Gingezel is a collaboration between the wife and husband team of retired theoretical physicists Judi Suni Hall, PhD. and Donald S. Hall, PhD. Don is founder of Apps&More Software. Judi has been severely disabled by illness for a very long time. Judi's mathematical art can be found in private collections in the US, Canada, Europe, and the Orient. In 2013 she had the honor of one of her 3D fractals being a finalist in the University of Lethbridge New Media Prized Pixels competition and was part of that exhibit. They are award winning surface designers, and Gingezel design has been featured in UK's prestigious Trend Bible. They have also had the honor of it being used in several celebrity charity auctions. They write and publish science fiction. Their first series, Gingezel gave the name to their combined efforts. Gingezel is a luxury resort planet, one kept as close to perfection as possible, an escape, a sanctuary. The series itself is a compassionate story of Mitra, a power systems engineer whose reactor overpowers, and who must come to grips with the consequences of the accident. They are now releasing a second series about Octagla, a space sport Don invented that is a 0-gravity hockey lacrosse hybrid. Judi and Don are also internationally recognized haiga poets. Their work can be found in Haiga on Line, Sketchbook, Daily Haiga, Simply Haiku, and Haiku Pix. Please visit the Gingezel sites to explore more about Gingezel: www.gingezel.com www.gingezelfabric.com www.gingezelscifi.com www.gingezeltile.com www.gingezel.net This is a mindscapes site with poetry and art. www.gingezelmindscapes2.net Gingezel joined Society6 on August 19, 2014
More
Share the Joy of Creating Beauty! At Gingezel we are inspired by the synergy between mathematics and nature. Gingezel is a collaboration between the wife and husband team of retired theoretical physicists Judi Suni Hall, PhD. and Donald S. Hall, PhD. Don is founder of Apps&More Software. Judi has been severely disabled by illness for a very long time. Judi's mathematical art can be found in private collections in the US, Canada, Europe, and the Orient. In 2013 she had the honor of one of her 3D fractals being a finalist in the University of Lethbridge New Media Prized Pixels competition and was part of that exhibit. They are award winning surface designers, and Gingezel design has been featured in UK's prestigious Trend Bible. They have also had the honor of it being used in several celebrity charity auctions. They write and publish science fiction. Their first series, Gingezel gave the name to their combined efforts. Gingezel is a luxury resort planet, one kept as close to perfection as possible, an escape, a sanctuary. The series itself is a compassionate story of Mitra, a power systems engineer whose reactor overpowers, and who must come to grips with the consequences of the accident. They are now releasing a second series about Octagla, a space sport Don invented that is a 0-gravity hockey lacrosse hybrid. Judi and Don are also internationally recognized haiga poets. Their work can be found in Haiga on Line, Sketchbook, Daily Haiga, Simply Haiku, and Haiku Pix.
Please visit the Gingezel sites to explore more about Gingezel: www.gingezel.com www.gingezelfabric.com www.gingezelscifi.com www.gingezeltile.com www.gingezel.net This is a mindscapes site with poetry and art. www.gingezelmindscapes2.net
Gingezel joined Society6 on August 19, 2014.
Framed Prints by Gingezel
106 results
Filter