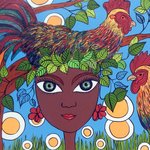 Ginia | Caribbean New Pop Art
Born and raised in Dominican Republic, I'm exploring new techniques and forms of expression through painting.
Nacida y criada en República Dominicana, exploro nuevas técnicas y formas de expresión a través de la pintura. No dejes de enviar me tus comentarios y críticas....buenas o malas....siempre son una excelente forma de crecer y aprender para el artista.
Read more
Laptop Skins by Ginia | Caribbean New Pop Art
Filter
Laptop Skins by Ginia | Caribbean New Pop Art