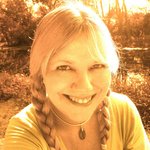 Ginny Gaura
When I was a child, my favorite past-times were reading and drawing. As I got older, this grew into memorizing poetry (including song lyrics), painting and writing. In college, it was illustration and photography. In grad school, it was painting again. Afterwards, writing. Today, I love collecting inspirational quotations and creating in any way I can. From traditional methods through digital, I enjoy expressing myself through art. I have a wide variety of artistic styles because I love to work with diverse elements, often experimenting by combining media. Color and movement through varying lines and shapes are important aspects of design to me. As a regular meditation practitioner, I am inspired by shifting consciousness which gives rise to patterns, shapes and ideas, forever changing into something different. It is my intention to continue posting more artwork so bookmark this page as I have a lot of art to share. Also, please "Like" me on my Facebook page to be kept updated of new art and writings, including my ArtLove blog. My Facebook page is www.facebook.com/artistginnygaura Ginny Gaura joined Society6 on August 16, 2013
More
When I was a child, my favorite past-times were reading and drawing. As I got older, this grew into memorizing poetry (including song lyrics), painting and writing. In college, it was illustration and photography. In grad school, it was painting again. Afterwards, writing. Today, I love collecting inspirational quotations and creating in any way I can. From traditional methods through digital, I enjoy expressing myself through art.
I have a wide variety of artistic styles because I love to work with diverse elements, often experimenting by combining media. Color and movement through varying lines and shapes are important aspects of design to me. As a regular meditation practitioner, I am inspired by shifting consciousness which gives rise to patterns, shapes and ideas, forever changing into something different.
It is my intention to continue posting more artwork so bookmark this page as I have a lot of art to share. Also, please "Like" me on my Facebook page to be kept updated of new art and writings, including my ArtLove blog. My Facebook page is www.facebook.com/artistginnygaura
Ginny Gaura joined Society6 on August 16, 2013.