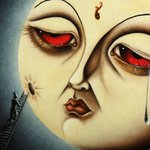 Gisela Verdessi
Without prejudice to the basic contemporary techniques, Gisela learned the oldest technique glaze oil dating from the time of Renaissance. Her theme suggests "esoteric", occult, about death and unreality with images that refresh the unconscious, about the old and forgot things, the same things that most people don´t know, because they have strongly held Christian beliefs. One way to express her intellectual interest in the proposed topic it is making a deep study of symbols´ images that must be contained in her paintings. www.giselaverdessi.com Gisela Verdessi joined Society6 on December 28, 2011
More
Without prejudice to the basic contemporary techniques, Gisela learned the oldest technique glaze oil dating from the time of Renaissance.
Her theme suggests "esoteric", occult, about death and unreality with images that refresh the unconscious, about the old and forgot things, the same things that most people don´t know, because they have strongly held Christian beliefs. One way to express her intellectual interest in the proposed topic it is making a deep study of symbols´ images that must be contained in her paintings.
www.giselaverdessi.com
Gisela Verdessi joined Society6 on December 28, 2011.
Gisela Verdessi's Store
39 results
Filter