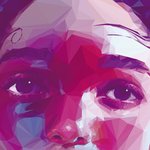 Giselle LowPoly
Giselle Manzano Ramírez is a New York City-based graphic designer and Low Poly Illustrator. Her collection, titled 'Low Poly Portraits: Artists', transforms pictures of legendary, world renowned figures in the art world using the modern low poly technique, adding an artful blend of colors to the triangles to create stunning artworks. Check her portfolio here: https://www.behance.net/gallery/26076325/Low-Poly-Portraits-Artists Giselle LowPoly joined Society6 on July 14, 2015
More
Giselle Manzano Ramírez is a New York City-based graphic designer and Low Poly Illustrator.
Her collection, titled 'Low Poly Portraits: Artists', transforms pictures of legendary, world renowned figures in the art world using the modern low poly technique, adding an artful blend of colors to the triangles to create stunning artworks.
Check her portfolio here: https://www.behance.net/gallery/26076325/Low-Poly-Portraits-Artists
Giselle LowPoly joined Society6 on July 14, 2015.