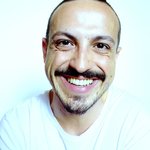 Giulio Rossi
http://giuliorossi.weebly.com/ Hi! I'm Giulio Rossi born in L'Aquila in 1983. My passion is art, ever since I was a child, I was attracted to this field. I'm a self-taught artist exploring different techniques from acrylic paintings to ink and chalks drawings. My favourite subjects are landscapes and portraits. Recently I started drawing with a digitizing tablet and I discoverd a whole world to express my creativity and to improve my artistic skills. That's how I decided to be an illustrator! Giulio Rossi joined Society6 on May 30, 2010
More
http://giuliorossi.weebly.com/
Hi! I'm Giulio Rossi born in L'Aquila in 1983. My passion is art, ever since I was a child, I was attracted to this field. I'm a self-taught artist exploring different techniques from acrylic paintings to ink and chalks drawings. My favourite subjects are landscapes and portraits. Recently I started drawing with a digitizing tablet and I discoverd a whole world to express my creativity and to improve my artistic skills.
That's how I decided to be an illustrator!
Giulio Rossi joined Society6 on May 30, 2010.
Au Contraire Cra_Hoody Tapestries by Giulio Rossi
1 result
Filter