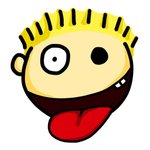 Giuseppe Lentini
Hi my name is Giuseppe Lentini. I am a graphic, illustrator, webdesigner. I like animation and painting. That's all :b Have a nice day and smile life! About THE SBIRÙ's WORLD ... feelings, emotions, plays, jokes, art and intelligence! If you think it's a fantasy world, look around you carefully and you will start to see them. (If you like these comics and you need some different illustration that you don't see in my shop, I can draw it for you gladly. Feel free to send me a message) (Personalized comics "The Sbirù" if you need it for special people or events. Write me! mail: giuseppelen@alice.it) WEBSITE: http://www.fumetti.trattogl.it FACEBOOK: https://www.facebook.com/TheSbiruGiftIdeas/ WEBSITE: http://www.trattogl.it see also: ERGATTOSAGGIO > https://society6.com/ergatto Please, write me or send me a photo if you have bought one of my works. mail: giuseppelen@alice.it Giuseppe Lentini joined Society6 on October 2, 2015
More
Hi my name is Giuseppe Lentini. I am a graphic, illustrator, webdesigner. I like animation and painting. That's all :b Have a nice day and smile life!
About THE SBIRÙ's WORLD ... feelings, emotions, plays, jokes, art and intelligence! If you think it's a fantasy world, look around you carefully and you will start to see them.
(If you like these comics and you need some different illustration that you don't see in my shop, I can draw it for you gladly. Feel free to send me a message) (Personalized comics "The Sbirù" if you need it for special people or events. Write me! mail: giuseppelen@alice.it)
WEBSITE: http://www.fumetti.trattogl.it FACEBOOK: https://www.facebook.com/TheSbiruGiftIdeas/ WEBSITE: http://www.trattogl.it
see also: ERGATTOSAGGIO > https://society6.com/ergatto
Please, write me or send me a photo if you have bought one of my works. mail: giuseppelen@alice.it
Giuseppe Lentini joined Society6 on October 2, 2015.