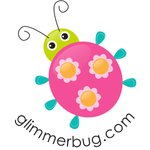 Glimmerbug
Glimmer Bug. Cute, isn't it? Just the sound of it makes me happy! As a self-taught mix media artist, I enjoy trying new techniques, supplies and just plain making pretty stuff. It's relaxing, enjoyable and fulfilling, especially after the many hours spent chained to a computer, designing websites, logos and marketing campaigns for fabulous clients over at Vario Creative. There's something therapeutic about "getting back to basics" and away from electronic creations. Starting off at Fitchburg State University as an elementary education major with a minor in art was my lifelong dream when I was younger. But as I got closer to the end of my freshman year at college, I realized I was most interested in the actual art and design portion of my studies. So what did I do? Walked myself right into the head of the Graphic Design and Communications Media department and switched majors. And that has been one of the best decisions I've ever made. After years of working in corporate America for marketing department after marketing department, I'd had enough. Marketing is usually one of the first departments affected in a corporate downsizing… and I was getting tired of receiving my "walking papers" every couple of years. So in 2004, I decided that what I really wanted for my career was to start my own graphic design company. And that's when Vario Creative was hatched. Almost 10 years later, it's still my main source of income and I enjoy working with each of my extraordinary clients. Of course, the business model has changed a bit as I've also become the mom of three incredibly busy and fun little kiddos. It's being a mom that is my main focus now and it is the best job in the world! Anyhow, I've always had a passion for non-electronically created art. When I was a child, you could always find me drawing, painting, playing with clay and creating with anything that I could get my little hands on. Nothing made me happier as a child than a brand new box of Crayola crayons! And my love of creating art carried me through high school where I was part of the Art Major program. In fact, at high school graduation, I even got an art scholarship award! But with the onslaught of computer-generated artwork once I was in college, I really seemed to take an unintentional break from old school art and creative. I changed my focus from paint and paper to pixels and pantone colors. Within the last few years, I started to take a few online art classes and rekindle my enjoyment of handmade art. I decided that it was time to start making this hobby into more of a reality. Creating every day is important to me and it makes me feel like a more contented person. And one of the greatest results of this "art rebirth" is that my preschool age children are totally into it with me. Every day we enjoy creating something or other! And I hope it makes them as happy as it makes me. Yes, I'm addicted to art. Yes, I have a major problem with going into art stores and dropping way too much money on supplies for my stash that I really don't need. Yes, I love getting my paints, brushes, watercolor crayons, markers and anything else art related and starting a new project. It's exciting (and sometimes a bit intimidating) to have a blank sheet of paper staring back at you. But there is inspiration and creativity everywhere! The possibilities are endless! Glimmerbug joined Society6 on February 19, 2014
More
Glimmer Bug. Cute, isn't it? Just the sound of it makes me happy!
As a self-taught mix media artist, I enjoy trying new techniques, supplies and just plain making pretty stuff. It's relaxing, enjoyable and fulfilling, especially after the many hours spent chained to a computer, designing websites, logos and marketing campaigns for fabulous clients over at Vario Creative. There's something therapeutic about "getting back to basics" and away from electronic creations.
Starting off at Fitchburg State University as an elementary education major with a minor in art was my lifelong dream when I was younger. But as I got closer to the end of my freshman year at college, I realized I was most interested in the actual art and design portion of my studies. So what did I do? Walked myself right into the head of the Graphic Design and Communications Media department and switched majors. And that has been one of the best decisions I've ever made.
After years of working in corporate America for marketing department after marketing department, I'd had enough. Marketing is usually one of the first departments affected in a corporate downsizing… and I was getting tired of receiving my "walking papers" every couple of years. So in 2004, I decided that what I really wanted for my career was to start my own graphic design company. And that's when Vario Creative was hatched. Almost 10 years later, it's still my main source of income and I enjoy working with each of my extraordinary clients. Of course, the business model has changed a bit as I've also become the mom of three incredibly busy and fun little kiddos. It's being a mom that is my main focus now and it is the best job in the world!
Anyhow, I've always had a passion for non-electronically created art. When I was a child, you could always find me drawing, painting, playing with clay and creating with anything that I could get my little hands on. Nothing made me happier as a child than a brand new box of Crayola crayons! And my love of creating art carried me through high school where I was part of the Art Major program. In fact, at high school graduation, I even got an art scholarship award! But with the onslaught of computer-generated artwork once I was in college, I really seemed to take an unintentional break from old school art and creative. I changed my focus from paint and paper to pixels and pantone colors.
Within the last few years, I started to take a few online art classes and rekindle my enjoyment of handmade art. I decided that it was time to start making this hobby into more of a reality. Creating every day is important to me and it makes me feel like a more contented person. And one of the greatest results of this "art rebirth" is that my preschool age children are totally into it with me. Every day we enjoy creating something or other! And I hope it makes them as happy as it makes me.
Yes, I'm addicted to art. Yes, I have a major problem with going into art stores and dropping way too much money on supplies for my stash that I really don't need. Yes, I love getting my paints, brushes, watercolor crayons, markers and anything else art related and starting a new project. It's exciting (and sometimes a bit intimidating) to have a blank sheet of paper staring back at you. But there is inspiration and creativity everywhere! The possibilities are endless!
Glimmerbug joined Society6 on February 19, 2014.