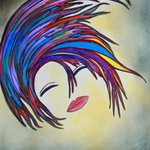 Melinda Firestone White
Artist, I love creating art using various mediums. www.GlowingBird.com
Email: glowingbirdart@gmail.com TWITTER www.twitter.com/glowingbird INSTAGRAM: melindafirestone_white
I am an artist living in Oregon and have been creating art since 1996 using a variety of mediums to create pieces on canvas, paper, silk & most recently wood. I am excited to experiment more with art and use different techniques. I also include digital filters into my art which gives the artwork a beautiful glow and gives the artwork a new look. I visit the Oregon coast often where I take photographs of the beautiful Oregon Coast.
Each piece here starts out with an original design on paper or canvas using paint, ink, watercolor, pen, colored pencil and pastel chalk. Then some pieces are digitally enhanced from the original pieces I created giving it a glowing appearance or a digitally altered piece.
All artwork in this gallery is the original artwork of Melinda Firestone-White. All Rights Reserved. It is for sale, copyrighted to Melinda Firestone-White and, as such, is protected by US and International Copyright laws.
Read more
Melinda Firestone White's Store
Filter