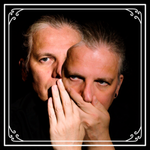 Godpipo's cravings
People often wander if the world keeps revolving is the suns dies and no-one knows the answer. Yet there are things listening to the questions asked, just to know the questions are asked. Without wondering and bewildering the world will become a place of extreme dullness and concrete. Don't be like that, always wonder your way through life. Be curious about everything, the world and the things you never had. But there is one thing you can have, where wondering becomes an answer to your happiness. Making cravings happen and finding pictures no-one has seen before (or maybe things that make you wonder) that's what it is all about. And there shall be no more then 23, no more no less. Always! Godpipo's cravings joined Society6 on October 7, 2013
More
People often wander if the world keeps revolving is the suns dies and no-one knows the answer. Yet there are things listening to the questions asked, just to know the questions are asked. Without wondering and bewildering the world will become a place of extreme dullness and concrete. Don't be like that, always wonder your way through life. Be curious about everything, the world and the things you never had.
But there is one thing you can have, where wondering becomes an answer to your happiness. Making cravings happen and finding pictures no-one has seen before (or maybe things that make you wonder) that's what it is all about.
And there shall be no more then 23, no more no less. Always!
Godpipo's cravings joined Society6 on October 7, 2013.