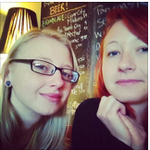 GoGo Monroe
GoGo Monroe is a blog of design projects and ideas, and a brand for coin purses and other textile and paper products. It is created by sisters Brigitta and Gloria. A part of the proceeds go to the Malala Fund, which helps girls in countries where they face the greatest challenges, fighting for education and funding programs in Pakistan, Afghanistan, India, Jordan, Kenya, Lebanon and Nigeria. Visit our website at www.gogomonroe.com Follow us on Instagram/Twitter @gogomonroe GoGo Monroe joined Society6 on February 28, 2015
More
GoGo Monroe is a blog of design projects and ideas, and a brand for coin purses and other textile and paper products. It is created by sisters Brigitta and Gloria.
A part of the proceeds go to the Malala Fund, which helps girls in countries where they face the greatest challenges, fighting for education and funding programs in Pakistan, Afghanistan, India, Jordan, Kenya, Lebanon and Nigeria.
Visit our website at www.gogomonroe.com
Follow us on Instagram/Twitter @gogomonroe
GoGo Monroe joined Society6 on February 28, 2015.
GoGo Monroe's Store
32 results
Filter