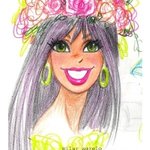 GothicSweet by Pilar Agrelo
Thank you for visiting my Gothic Sweet Art My name is Pilar Agrelo i's am artist and Designer from Peru currently living New York my Home. The inspiration for my Drawings and designs come to my imagination ,story books and childhood memories . I hope you enjoy them and come often, fell free contact me for detail for purchasing art and prints . Art prints of my original art and more! GothicSweet by Pilar Agrelo joined Society6 on March 6, 2016
More
Thank you for visiting my Gothic Sweet Art
My name is Pilar Agrelo i's am artist and Designer from Peru currently living New York my Home.
The inspiration for my Drawings and designs come to my imagination ,story books and childhood memories . I hope you enjoy them and come often, fell free contact me for detail for purchasing art and prints .
Art prints of my original art and more!
GothicSweet by Pilar Agrelo joined Society6 on March 6, 2016.
GothicSweet by Pilar Agrelo's Store
10 results
Filter