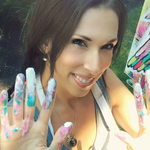 Ivy Newport
Ivette (aka Ivy) is an artist, antique/vintage shop owner, interior designer and mother to 6 year old, Grace and 4 month old, Claire. When she is not busy with her family she likes to create art, take photos, hunt for vintage treasures, visit with friends and work on her blog. Originally from Sydney, Australia, Ivette now lives in Portland, OR (it's a long story). Books, travel, art, design, food, photography and history all bring Ivette much inspiration and joy. Vintage Etsy Shop: http://www.etsy.com/shop/graceandivy Blog: http://graceandivy.wordpress.com/ Facebook: https://www.facebook.com/graceandivy Twitter: https://twitter.com/graceandivy Flickr: http://www.flickr.com/photos/46989509@N08 Pinterest: https://pinterest.com/ivetten/ Ivy Newport joined Society6 on October 4, 2012
More
Ivette (aka Ivy) is an artist, antique/vintage shop owner, interior designer and mother to 6 year old, Grace and 4 month old, Claire. When she is not busy with her family she likes to create art, take photos, hunt for vintage treasures, visit with friends and work on her blog. Originally from Sydney, Australia, Ivette now lives in Portland, OR (it's a long story). Books, travel, art, design, food, photography and history all bring Ivette much inspiration and joy.
Vintage Etsy Shop: http://www.etsy.com/shop/graceandivy Blog: http://graceandivy.wordpress.com/ Facebook: https://www.facebook.com/graceandivy Twitter: https://twitter.com/graceandivy Flickr: http://www.flickr.com/photos/46989509@N08 Pinterest: https://pinterest.com/ivetten/
Ivy Newport joined Society6 on October 4, 2012.