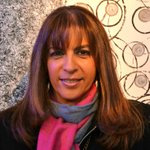 Graciela Bello
Graciela Bello is an argentine contemporary artist, lives and works in Buenos Aires. She has painted ever since she was a little girl. She has taken part in more than 260 exhibitions in her country and abroad: USA, United Kingdom, Ireland, Italy, Spain, Switzerland, Brazil, Mexico, Chile, Peru, Costa Rica, Uruguay and Dominican Republic. Many of her paintings were used as covers (novels, poetry books, music albums and magazines). Website: https://www.gracielabello.com/ Facebook: https://www.facebook.com/gracielabelloarte/ Instagram: https://www.instagram.com/graciela_bello_art/ Pinterest: https://ar.pinterest.com/gracebelloart/ Mail: gracielabelloarte@gmail.com Graciela Bello joined Society6 on August 2, 2016
More
Graciela Bello is an argentine contemporary artist, lives and works in Buenos Aires. She has painted ever since she was a little girl. She has taken part in more than 260 exhibitions in her country and abroad: USA, United Kingdom, Ireland, Italy, Spain, Switzerland, Brazil, Mexico, Chile, Peru, Costa Rica, Uruguay and Dominican Republic. Many of her paintings were used as covers (novels, poetry books, music albums and magazines).
Website: https://www.gracielabello.com/ Facebook: https://www.facebook.com/gracielabelloarte/ Instagram: https://www.instagram.com/graciela_bello_art/ Pinterest: https://ar.pinterest.com/gracebelloart/ Mail: gracielabelloarte@gmail.com
Graciela Bello joined Society6 on August 2, 2016.