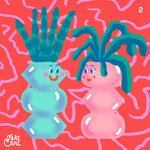 Grace Danico
Grace Danico is an artist, illustrator, and writer living and working in New York City. Her work is an on going experiment in the preservation of memories through visual cataloging. She has a fond obsession for ghosts and the supernatural, ice cream, travel, and the multitude of patterns that exist within nature, time, and the human landscape. Grace also serves as the Illustration Editor at the Mid-Century inspired design blog Grain Edit and is working on her Masters in Library and Information Science at Pratt Institute. Grace Danico joined Society6 on January 29, 2010
More
Grace Danico is an artist, illustrator, and writer living and working in New York City.
Her work is an on going experiment in the preservation of memories through visual cataloging. She has a fond obsession for ghosts and the supernatural, ice cream, travel, and the multitude of patterns that exist within nature, time, and the human landscape.
Grace also serves as the Illustration Editor at the Mid-Century inspired design blog Grain Edit and is working on her Masters in Library and Information Science at Pratt Institute.
Grace Danico joined Society6 on January 29, 2010.
Grace Danico's Store
9 result
Filter