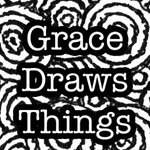 GraceDrawsThings
Hello! I'm Grace, an artist based in Los Angeles, California. All art is my own, drawn in pen on paper (and, much to people's surprise, without a ruler). Thanks for checking out my page! Check out my tumblr to see the same artwork posted here except on tumblr: http://gracedrawsthings.tumblr.com/ GraceDrawsThings joined Society6 on October 19, 2014
More
Hello! I'm Grace, an artist based in Los Angeles, California. All art is my own, drawn in pen on paper (and, much to people's surprise, without a ruler). Thanks for checking out my page!
Check out my tumblr to see the same artwork posted here except on tumblr: http://gracedrawsthings.tumblr.com/
GraceDrawsThings joined Society6 on October 19, 2014.