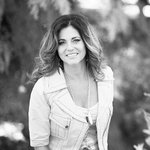 Graphicli
I'm Lili the founder of GRAPHICLI. I come from an extensive background in fine arts and graphic design. As a brand stylist, I helps passionate, creative entrepreneurs channel their excitement and all of their ideas to create a visually stunning, cohesive brand that feels right for them while working wonders for their business. As a passionate designer for self expression, I use my hand brush script lettering style to create logos and to display my words of inspiration on wall décor, furniture and more. I feel I inspire and uplift the human spirit through my art, writing and communication. Graphicli joined Society6 on April 18, 2014
More
I'm Lili the founder of GRAPHICLI. I come from an extensive background in fine arts and graphic design. As a brand stylist, I helps passionate, creative entrepreneurs channel their excitement and all of their ideas to create a visually stunning, cohesive brand that feels right for them while working wonders for their business.
As a passionate designer for self expression, I use my hand brush script lettering style to create logos and to display my words of inspiration on wall décor, furniture and more.
I feel I inspire and uplift the human spirit through my art, writing and communication.
Graphicli joined Society6 on April 18, 2014.