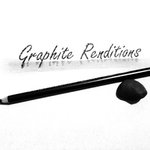 Graphite Renditions
Thank you for visiting Graphite Renditions. All of my drawings are done in pencil with an occasional splash of color (colored pencils). All pictures are inspired by movies and popular characters. If you have a request please email me at Jennifer_L_R@Hotmail.com. I reserve the right to reproduce the requested artwork at no cost to the requester. Graphite Renditions joined Society6 on November 5, 2013
More
Thank you for visiting Graphite Renditions.
All of my drawings are done in pencil with an occasional splash of color (colored pencils). All pictures are inspired by movies and popular characters.
If you have a request please email me at Jennifer_L_R@Hotmail.com.
I reserve the right to reproduce the requested artwork at no cost to the requester.
Graphite Renditions joined Society6 on November 5, 2013.