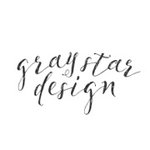 Gray Star Design
A New York design studio that offers event stationery, handmade cards, and art prints. Showcasing modern and clean designs with a touch of whimsy. Melissa graduated with a BFA in Graphic Design and holds 7 years of art studies under her belt with over 7 years professional experience as a freelance designer. Her loves are photography, film, philosophy, nature and animals, and everything vintage. She lives on Long Island with her husband, son, and 2 dogs. You can learn more about her services at graystardesign.com Gray Star Design joined Society6 on June 13, 2014
More
A New York design studio that offers event stationery, handmade cards, and art prints. Showcasing modern and clean designs with a touch of whimsy.
Melissa graduated with a BFA in Graphic Design and holds 7 years of art studies under her belt with over 7 years professional experience as a freelance designer. Her loves are photography, film, philosophy, nature and animals, and everything vintage. She lives on Long Island with her husband, son, and 2 dogs.
You can learn more about her services at graystardesign.com
Gray Star Design joined Society6 on June 13, 2014.
Gray Star Design's Store
41 results
Filter