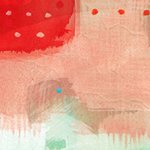 Belinda Marshall
:: website: http://belindamarshall.com/ :: blog: http://belindamarshallstudioblog.blogspot.com/ :: shop: http://belindamarshall.bigcartel.com/ :: facebook: http://www.facebook.com/belindamarshallstudio
Artist Statement I am a Melbourne-based artist & surface designer. I mainly work with acrylic paint, graphite, hand stitching and collage.
My work is an exploration of emotional reactions to the beauty within my immediate environment. A connection to my experience of an idyllic country landscape during childhood drives the need to portray the beauty found in domestic settings and urban landscapes in my work.
My works depict my vision of a perfect world - a calm, meditative space - communicated through layers of colour blocks and sections of representative imagery and repeat pattern. I focus only on what resonates and draws me in.
By expressing observations of beautiful objects and moments in my work, I aim to create a space for the viewer to form a deeper connection to his or her surroundings and to access the contentment that can be experienced from this process.
belinda marshall 2014
Read more