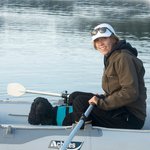 Griffing Designs, LLC
Spending time outdoors feeling connected with nature has always been very grounding for me. It clears my head and brings me back to the present. I was brought up on an Island in Alaska so nature was just a part of life. I took up photography in high school as a way to interact with my beautiful surroundings. I started my photography career with an online photography course using a 6 megapixel point and shoot camera. Students who wished to take the class offered through the high school needed to own a DSLR camera and I did not have the means to buy one. No matter, I absolutely LOVED my online course. I got tons of positive feedback from the instructor and began taking photos everywhere I went. My wonderfully supportive parents noticed my developing passion for photography. A year later a DSLR camera showed up under the Christmas tree. That very same camera has taken all the photos currently available in my shop. In July of 2013 I decided I wanted to do something with all the photos I have put so much time and effort into taking and editing.Three months later, I had my Etsy shop up and running. Etsy has intensified my passion for photography and I love sharing my photos with everyone who views them. Today I sell on multiple platforms and offer a wide variety of products! Griffing Designs, LLC joined Society6 on September 16, 2014
More
Spending time outdoors feeling connected with nature has always been very grounding for me. It clears my head and brings me back to the present. I was brought up on an Island in Alaska so nature was just a part of life. I took up photography in high school as a way to interact with my beautiful surroundings.
I started my photography career with an online photography course using a 6 megapixel point and shoot camera. Students who wished to take the class offered through the high school needed to own a DSLR camera and I did not have the means to buy one. No matter, I absolutely LOVED my online course. I got tons of positive feedback from the instructor and began taking photos everywhere I went.
My wonderfully supportive parents noticed my developing passion for photography. A year later a DSLR camera showed up under the Christmas tree. That very same camera has taken all the photos currently available in my shop.
In July of 2013 I decided I wanted to do something with all the photos I have put so much time and effort into taking and editing.Three months later, I had my Etsy shop up and running. Etsy has intensified my passion for photography and I love sharing my photos with everyone who views them. Today I sell on multiple platforms and offer a wide variety of products!
Griffing Designs, LLC joined Society6 on September 16, 2014.