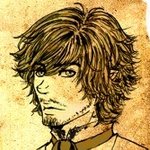 GrimsonLime
Traveled all over (Japan even!). I still have a long way to go and a lot more to learn. I kick around Toronto now. I can be a little dramatic, if not completely loony. My studio partner and I want to put together a choose your own adventure game (kind of like Lamento, DRAMAtical Murder, sweet pool... ). It'll be called Vampire's Kiss and will be a BL/Shounen-Ai/Supernatural project. Kalamarian Lullaby is a project I started in 2005. I am the creator that series. It's fantasy/shonen genre. While my studio partner is in college I will be currently working on the cover design as well as scripting for the first volume so please look forward to this series first. I have studied art at various colleges but have found it was always easier to learn on my own. I've read countless comics, dived into countless stories, books, movies, all to get a grasp on the idea of creating my own world of characters. All of the pictures I will share here are done from my fantasy world Kalamara and it's two moons Neshoda and Paxium. There will be many characters and many stories to tell so stick around for more illustrations here as I share more of their stories. GrimsonLime joined Society6 on October 12, 2013
More
Traveled all over (Japan even!). I still have a long way to go and a lot more to learn. I kick around Toronto now. I can be a little dramatic, if not completely loony.
My studio partner and I want to put together a choose your own adventure game (kind of like Lamento, DRAMAtical Murder, sweet pool... ). It'll be called Vampire's Kiss and will be a BL/Shounen-Ai/Supernatural project.
Kalamarian Lullaby is a project I started in 2005. I am the creator that series. It's fantasy/shonen genre. While my studio partner is in college I will be currently working on the cover design as well as scripting for the first volume so please look forward to this series first.
I have studied art at various colleges but have found it was always easier to learn on my own. I've read countless comics, dived into countless stories, books, movies, all to get a grasp on the idea of creating my own world of characters. All of the pictures I will share here are done from my fantasy world Kalamara and it's two moons Neshoda and Paxium. There will be many characters and many stories to tell so stick around for more illustrations here as I share more of their stories.
GrimsonLime joined Society6 on October 12, 2013.