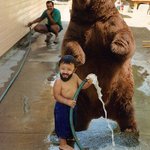 Grizzly Logo
Grizzly Logo is a bearded ADHD chap who grew up in a small town of Illinois with the population of 6900. He lived in a country house on 10 acres of land which his mother and father designed and built. Old enough with nature as your playground and becoming an Eagle Scout at the age of 14, one could say it was second nature to him. Besides nature he loves movies such as Star Wars, The Shining, Robin Hood, Hook and more. The FX in the movies drove him to want to create movies of his own. Story short the family VHS video camera became his camera and family / friends played as actors and stuntman. Living with a mother and father passionate about interior design and carpentry, it was only time that he to would discover his passion. He worked in an array of mediums: (not in order) cinematography, photography, ceramics, paintings, auto body, tattoo design, illustration, and silk screening. It wasn't until designing and silk screening for others that he discovered what would be his drive in life. He wanted to create a brand of his own. With the family moving west to Arizona he decided he too would go. Soon after enrolling and honing his skills he graduated in '08 with a degree in Visual Communications. Degree in hand he looked for work that would gear towards his passion. Of course it wasn't that easy so he settled for a job as a sales associate at Eddie Bauer for the mean time. It wasn't until he moved to Utah that he landed a job in an textile / silkscreen / embroidery shop as a graphic designer. Not pleased knowing he could get jobs done faster and the middle man not changing the way things were done, he left and found another job as a embroiderer. One step closer to his passion he found himself once again learning a new trait and side about apparel. After two years of embroidery he changed his position and started work at an action sports shop. On the side he still designs work for other apparel brands but you'll find him today as one of the managers at that action sports shop, making connections and spending his free time exploring, camping, photographing, and building his brand WOODWOLF Co.™ Grizzly Logo joined Society6 on December 29, 2013
More
Grizzly Logo is a bearded ADHD chap who grew up in a small town of Illinois with the population of 6900. He lived in a country house on 10 acres of land which his mother and father designed and built. Old enough with nature as your playground and becoming an Eagle Scout at the age of 14, one could say it was second nature to him. Besides nature he loves movies such as Star Wars, The Shining, Robin Hood, Hook and more. The FX in the movies drove him to want to create movies of his own. Story short the family VHS video camera became his camera and family / friends played as actors and stuntman.
Living with a mother and father passionate about interior design and carpentry, it was only time that he to would discover his passion. He worked in an array of mediums: (not in order) cinematography, photography, ceramics, paintings, auto body, tattoo design, illustration, and silk screening. It wasn't until designing and silk screening for others that he discovered what would be his drive in life. He wanted to create a brand of his own. With the family moving west to Arizona he decided he too would go. Soon after enrolling and honing his skills he graduated in '08 with a degree in Visual Communications.
Degree in hand he looked for work that would gear towards his passion. Of course it wasn't that easy so he settled for a job as a sales associate at Eddie Bauer for the mean time. It wasn't until he moved to Utah that he landed a job in an textile / silkscreen / embroidery shop as a graphic designer. Not pleased knowing he could get jobs done faster and the middle man not changing the way things were done, he left and found another job as a embroiderer. One step closer to his passion he found himself once again learning a new trait and side about apparel. After two years of embroidery he changed his position and started work at an action sports shop.
On the side he still designs work for other apparel brands but you'll find him today as one of the managers at that action sports shop, making connections and spending his free time exploring, camping, photographing, and building his brand WOODWOLF Co.™
Grizzly Logo joined Society6 on December 29, 2013.