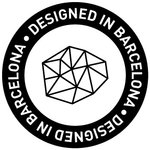 growthobjects
www.growthobjects.com 2D illustrations from our 3D generated complex natural geometries in our projects and products, applied on art prints and wearable textiles like t-shirts, tote bags, and others. The illustrations show the approach and processing in thousands or millions of triangles of the 3D real design. Designed in Barcelona. growthobjects joined Society6 on October 16, 2014
More
www.growthobjects.com
2D illustrations from our 3D generated complex natural geometries in our projects and products, applied on art prints and wearable textiles like t-shirts, tote bags, and others. The illustrations show the approach and processing in thousands or millions of triangles of the 3D real design.
Designed in Barcelona.
growthobjects joined Society6 on October 16, 2014.