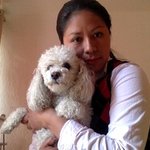 Guadalupe Reyes
About the artist "I paint my culture because it is beautiful and full of vibrant colors; it is unique..." Guadalupe Reyes (Lupita) was born in Oaxaca, Mexico, and now lives in central New Jersey. The youngest of seven children, she spent most of her childhood being raised by her grandmother who was more like a mother to her. Her grandmother was the one who noticed Guadalupe's natural artistic talent, and encouraged her, calling, her "La Pintora." Just before she turned sixteen, Guadalupe immigrated to the United States to join her family. She had a dream of improving her abilities in painting and started studying art in Hightstown High School soon after learning English as her second language. Not long after Guadalupe came to this country, her grandmother passed away, an event which has had a profound impact on Guadalupe and her art. After finishing high school, Guadalupe entered Mercer County Community College, where she was awarded an AB in Business Management in 2010. But she couldn't let go of her dream of making art. She returned to MCCC and continued her visual arts studies with internationally renowned artist Mel Leipzig, and other gifted instructors including Kyle Stevenson and Terry McNichol. She was awarded two painting scholarships in 2011, based on her talent, that allowed her to continue her education. In 2013, Guadalupe received her Fine Arts degree from Mercer County Community College and was recognized, again, with both the Jack Harris Memorial Scholarship for painting excellence and the Mel Leipzig Scholarship for outstanding work by a graduating artist. Even before she graduated, Guadalupe had begun to exhibit successfully. At first she exhibited in more local venues including the Gallery at MCCC; Ellarslie, the Trenton City Museum; and the West Windsor Arts Center. In 2012, however, she began to receive invitations to show her work in exhibitions in New York and California, and has recently begun to exhibit her work internationally. About the work Guadalupe's artwork is typified by a bold and colorful palette that she feels reflects the vibrant Mexican culture of her heritage. "I paint my culture because it is beautiful and full of vibrant colors," she says. "It is a culture that is unique both visually and expressively. It gives me great joy to paint my culture, my colors, and my people." Her primary medium these days is acrylic paint but she also use oil and watercolor for special effect. "I enjoy using acrylic," she observes, "for the flat vibrancy of the color and the immediacy it offers. But I also love the textures and lushness of oils, and will sometimes use them to create impasto surfaces of paint that create interest and drama for the viewer." Those textures, along with the use of bright, primary focal color and the careful use of white are signature elements in all her works. While all of her works are based on some aspect of her Mexican heritage, Guadalupe takes a special pleasure in exploring Day of the Dead themes that bring her back to her childhood, when everything was different. "The stories I was told were magical – and we believed them, because that is Mexico! Dia de los Muertos is still an important celebration in my hometown of Oaxaca. Every house is open that day, for people to visit. And when you visited, people would offer you food from the feast they had prepared." "I can still close my eyes today and smell the flavors of that food, the land and the flowers. I can see my grandmother cooking and laughing with us still. These are some of the feelings and impressions that I hope to share with you in my work." Guadalupe also love photography and that what she want to share here.... Guadalupe Reyes joined Society6 on August 20, 2014
More
About the artist
"I paint my culture because it is beautiful and full of vibrant colors; it is unique..."
Guadalupe Reyes (Lupita) was born in Oaxaca, Mexico, and now lives in central New Jersey. The youngest of seven children, she spent most of her childhood being raised by her grandmother who was more like a mother to her. Her grandmother was the one who noticed Guadalupe's natural artistic talent, and encouraged her, calling, her "La Pintora."
Just before she turned sixteen, Guadalupe immigrated to the United States to join her family. She had a dream of improving her abilities in painting and started studying art in Hightstown High School soon after learning English as her second language. Not long after Guadalupe came to this country, her grandmother passed away, an event which has had a profound impact on Guadalupe and her art.
After finishing high school, Guadalupe entered Mercer County Community College, where she was awarded an AB in Business Management in 2010. But she couldn't let go of her dream of making art. She returned to MCCC and continued her visual arts studies with internationally renowned artist Mel Leipzig, and other gifted instructors including Kyle Stevenson and Terry McNichol.
She was awarded two painting scholarships in 2011, based on her talent, that allowed her to continue her education. In 2013, Guadalupe received her Fine Arts degree from Mercer County Community College and was recognized, again, with both the Jack Harris Memorial Scholarship for painting excellence and the Mel Leipzig Scholarship for outstanding work by a graduating artist.
Even before she graduated, Guadalupe had begun to exhibit successfully. At first she exhibited in more local venues including the Gallery at MCCC; Ellarslie, the Trenton City Museum; and the West Windsor Arts Center. In 2012, however, she began to receive invitations to show her work in exhibitions in New York and California, and has recently begun to exhibit her work internationally.
About the work
Guadalupe's artwork is typified by a bold and colorful palette that she feels reflects the vibrant Mexican culture of her heritage. "I paint my culture because it is beautiful and full of vibrant colors," she says. "It is a culture that is unique both visually and expressively. It gives me great joy to paint my culture, my colors, and my people."
Her primary medium these days is acrylic paint but she also use oil and watercolor for special effect. "I enjoy using acrylic," she observes, "for the flat vibrancy of the color and the immediacy it offers. But I also love the textures and lushness of oils, and will sometimes use them to create impasto surfaces of paint that create interest and drama for the viewer." Those textures, along with the use of bright, primary focal color and the careful use of white are signature elements in all her works.
While all of her works are based on some aspect of her Mexican heritage, Guadalupe takes a special pleasure in exploring Day of the Dead themes that bring her back to her childhood, when everything was different. "The stories I was told were magical – and we believed them, because that is Mexico! Dia de los Muertos is still an important celebration in my hometown of Oaxaca. Every house is open that day, for people to visit. And when you visited, people would offer you food from the feast they had prepared."
"I can still close my eyes today and smell the flavors of that food, the land and the flowers. I can see my grandmother cooking and laughing with us still. These are some of the feelings and impressions that I hope to share with you in my work."
Guadalupe also love photography and that what she want to share here....
Guadalupe Reyes joined Society6 on August 20, 2014.