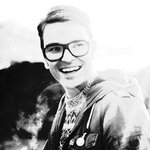 guenter konrad
In my artistic work I am talking about the ongoing change, connection and communication between the inner and outer worlds, and about the inevitable bond between art and human life in general. I feel drawn to the tension between opposites, the gray areas between black and white, the confusion and contemplation, stereotypes and prejudice. Décollages are part of everyday aesthetics. In their wildness, rejection can be deciphered - a manifestation of the spontaneous and direct expression. Artists like Raymond Hains and Jacques Villeglé recognized the quality of this unconventional form of art. I try to transform this method into our contemporary digital age. I'm currently working on a series of digital décollages and digital overpaintings. I combine renowned individual works of art with anonymous, collective décollages and street art. I find it enthralling to extract antiquated and analog pictures from their usual and long-standing environment and merge them with the current artistic language of the street. So, on the one hand you have got the history, the stories of the sophisticated culture of the past and on the other hand you have got the wild expression, the credibility of the sub culture in the streets. My aim is to marry those two antithetic approaches to art in my work and so create something utterly new. guenter konrad joined Society6 on September 15, 2014
More
In my artistic work I am talking about the ongoing change, connection and communication between the inner and outer worlds, and about the inevitable bond between art and human life in general. I feel drawn to the tension between opposites, the gray areas between black and white, the confusion and contemplation, stereotypes and prejudice.
Décollages are part of everyday aesthetics. In their wildness, rejection can be deciphered - a manifestation of the spontaneous and direct expression. Artists like Raymond Hains and Jacques Villeglé recognized the quality of this unconventional form of art. I try to transform this method into our contemporary digital age.
I'm currently working on a series of digital décollages and digital overpaintings. I combine renowned individual works of art with anonymous, collective décollages and street art. I find it enthralling to extract antiquated and analog pictures from their usual and long-standing environment and merge them with the current artistic language of the street. So, on the one hand you have got the history, the stories of the sophisticated culture of the past and on the other hand you have got the wild expression, the credibility of the sub culture in the streets.
My aim is to marry those two antithetic approaches to art in my work and so create something utterly new.
guenter konrad joined Society6 on September 15, 2014.