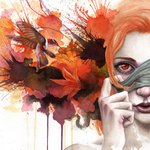 Guillem Marí
'Guillem Mari is an illustrator, painter and designer whose nuanced watercolor style has gotten a lot of attention in the past year. These lovely images have a depth of feeling that is often difficult to achieve!' .- Juxtapoz Magazine. 'Trough Guillem Mari's illustrations you will be introduced to powerful, confident women that create their own surroundings, bursting with vibrant color, emote through visual cues, self analyze and play hide and seek games with us and the world. Their feelings are laid bare for you. Just by looking at their expressions, analyzing their gestures, discovering the intensity of his brush strokes you'll empathize with his attractive, charming leading ladies.' .-KO Jewel. Facebook Page: https://www.facebook.com/guillemmari.art Tumblr: http://guillemmari.tumblr.com/ Blog: http://randomsprouts.wordpress.com/ Twitter: https://twitter.com/guillembe Pinterest: http://www.pinterest.com/guillemmari/ DeviantArt: http://guillembe.deviantart.com/ Guillem Marí joined Society6 on June 24, 2014
More
'Guillem Mari is an illustrator, painter and designer whose nuanced watercolor style has gotten a lot of attention in the past year. These lovely images have a depth of feeling that is often difficult to achieve!' .- Juxtapoz Magazine.
'Trough Guillem Mari's illustrations you will be introduced to powerful, confident women that create their own surroundings, bursting with vibrant color, emote through visual cues, self analyze and play hide and seek games with us and the world. Their feelings are laid bare for you. Just by looking at their expressions, analyzing their gestures, discovering the intensity of his brush strokes you'll empathize with his attractive, charming leading ladies.' .-KO Jewel.
Facebook Page: https://www.facebook.com/guillemmari.art
Tumblr: http://guillemmari.tumblr.com/
Blog: http://randomsprouts.wordpress.com/
Twitter: https://twitter.com/guillembe
Pinterest: http://www.pinterest.com/guillemmari/
DeviantArt: http://guillembe.deviantart.com/
Guillem Marí joined Society6 on June 24, 2014.
Guillem Marí's Store
63 results
Filter