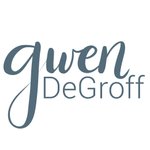 Gwen DeGroff
Hello! I'm Gwen! I'm so glad you're here! I'm a glass 'half full to overflowing' kind of girl. Forever optimist. Pattern designer. Hand letterer. Weight lifter. Mama bear of three. My designs and illustrations are full of bright cheerful colors and I love mixing patterns. I was a freelance graphic designer for over 10 years before breaking into the beautiful world of pattern design and hand lettering. I'm also on Instagram (@gwendegroff) working on my new series: #childhoodachievementawards. Stop by and say hello! Gwen DeGroff joined Society6 on November 13, 2015
More
Hello! I'm Gwen! I'm so glad you're here!
I'm a glass 'half full to overflowing' kind of girl. Forever optimist. Pattern designer. Hand letterer. Weight lifter. Mama bear of three.
My designs and illustrations are full of bright cheerful colors and I love mixing patterns. I was a freelance graphic designer for over 10 years before breaking into the beautiful world of pattern design and hand lettering.
I'm also on Instagram (@gwendegroff) working on my new series: #childhoodachievementawards.
Stop by and say hello!
Gwen DeGroff joined Society6 on November 13, 2015.
Popular+ by Gwen DeGroff
110 results
Filter