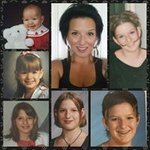 Katrina Berkenbosch
My name is Katrina, and I am from Alberta, Canada I'm not about to bore you with the story of my life, and how I got here because neither of us have that time in our day, so don't stop reading now! ;) I will however let you know that the last 7 years have shaped my art into what it is now. In 2008 I lost my daughter to SIDS (Sudden Infant Death Syndrome) and I spent a lot of time being really depressed, and at one point in time almost killing myself. I couldn't function, and I was tired of living because living was hard… I almost did it, had I not thought of my mom and how by taking my life I was just going to make her feel how I did, and how I couldn't do that to her… I didn't do it. I instead got out of the bathtub, burned my suicide note, and grabbed the easel set my mom had bought me for christmas… I didn't do it, and I'm glad I didn't do it. Art, although sometimes drawn or painted with the darkest intentions, comes out with the brightest colours. Art gave my grief colour, and although I may have cried and screamed while painting it was still beautiful. Art given any emotion is still beautiful, it is meant to be that way. Art is someones vision, and what they see. Enjoy my vision. Katrina Berkenbosch joined Society6 on October 25, 2014
More
My name is Katrina, and I am from Alberta, Canada
I'm not about to bore you with the story of my life, and how I got here because neither of us have that time in our day, so don't stop reading now! ;) I will however let you know that the last 7 years have shaped my art into what it is now. In 2008 I lost my daughter to SIDS (Sudden Infant Death Syndrome) and I spent a lot of time being really depressed, and at one point in time almost killing myself. I couldn't function, and I was tired of living because living was hard… I almost did it, had I not thought of my mom and how by taking my life I was just going to make her feel how I did, and how I couldn't do that to her… I didn't do it. I instead got out of the bathtub, burned my suicide note, and grabbed the easel set my mom had bought me for christmas… I didn't do it, and I'm glad I didn't do it.
Art, although sometimes drawn or painted with the darkest intentions, comes out with the brightest colours. Art gave my grief colour, and although I may have cried and screamed while painting it was still beautiful. Art given any emotion is still beautiful, it is meant to be that way. Art is someones vision, and what they see. Enjoy my vision.
Katrina Berkenbosch joined Society6 on October 25, 2014.