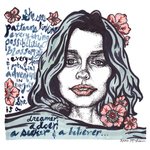 Katie McLean
surfer|artist|healthnut As the only person born and raised in a warehouse in the Funk Zone of Santa Barbara, CA amidst a community of craftsmen, prominent surf culture, and do-it-yourself environment, Katie's been granted endless inspiration and an eclectic palette with which she creates. With 8 years working experience in writing, graphic design, illustration, and creative direction for publications, 4 years owning Latitude Gallery, a BA in digital media for motion graphics from a full scholarship at Otis College of Art and Design in Los Angeles, and a passion for public art and non-profits, Katie is most driven to create for causes and communities she believes in.
Her 3 years of surfing and traveling as an ambassador for Roxy Quiksilver since winning a world-wide 19,000-entry video-social media video contest, instilled in her a desire to inspire others. Her ambassador roles for Roxy Outdoor Fitness, Wetsand Surf, Designer Whey, Project Save Our Surf, and Save the Mermaids, along with her Pilates and kickboxing certifications and 3 years working at a local yoga studio, have perfectly expanded her work into the surf, adventure, health and wellbeing industries.
When she's not designing, you'll find her sliding in the sea, meandering trails in the mountains, or making massive messes of health concoctions in the kitchen.
Currently seeking freelance opportunities and creative collaborations!
Email: Katie@GypsyEye.com GYPSYEYE.COM
Read more
Katie McLean's Store
10 results
Filter