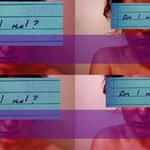 Han Caroline
Han Caroline is a visual artist from the UK. Having life-long interests in sewing and photography means a lot of Han's work is a combination of these mediums - including pieces that she calls "photopatchwork" - but other media interests her as well, especially sculpture and video. As an inspiring writer, she also explores the use of text in her work. Life experiences and personal recollections, often rooted in being queer, autistic and hard of hearing, are key features in Han's work as she considers the identity a prominent influence on practice. Her work is usually a reflection of her attempt to understand herself and her surroundings, believing that identities are made up of many factors that intersect and collide with each other to make up people's thoughts, ideas, and how they perceive the world. Currently, Han Caroline is studying BA English Literature with Creative Writing at Swansea University, starting in 2016. http://www.hannahcarolinetrim.co.uk/ instagram.com/hct.art/ Han Caroline joined Society6 on April 23, 2014
More
Han Caroline is a visual artist from the UK.
Having life-long interests in sewing and photography means a lot of Han's work is a combination of these mediums - including pieces that she calls "photopatchwork" - but other media interests her as well, especially sculpture and video. As an inspiring writer, she also explores the use of text in her work.
Life experiences and personal recollections, often rooted in being queer, autistic and hard of hearing, are key features in Han's work as she considers the identity a prominent influence on practice. Her work is usually a reflection of her attempt to understand herself and her surroundings, believing that identities are made up of many factors that intersect and collide with each other to make up people's thoughts, ideas, and how they perceive the world.
Currently, Han Caroline is studying BA English Literature with Creative Writing at Swansea University, starting in 2016.
http://www.hannahcarolinetrim.co.uk/ instagram.com/hct.art/
Han Caroline joined Society6 on April 23, 2014.