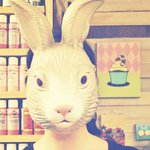 HANASAURUSREX
The hanasaurusrex is an elusive creature. Found mostly in cramped studios under the cover of night, the hanasaurusrex busies itself with cute creative projects. Living many hours of the day within a world of concept indigenous only to it's own mind. If you wish to capture a glimpse of the hanasaurusrex you must first do the dance of the banana, the hanasaurusrex's primary diet. This may lure the hanasaurusrex out of its den giving you the best opportunity to witness this terribly cute creature in its natural habitat. However, caution is advised, we strongly suggest you do not try to feed the hanasaurusrex. You could lose a finger! Rawr! If you like to hunt and want to track the hanasaurusrex, you can start by looking in these places... Twitter, Facebook, Instagram, Flickr, and Pinterest. HANASAURUSREX joined Society6 on January 17, 2010
More
The hanasaurusrex is an elusive creature.
Found mostly in cramped studios under the cover of night, the hanasaurusrex busies itself with cute creative projects. Living many hours of the day within a world of concept indigenous only to it's own mind. If you wish to capture a glimpse of the hanasaurusrex you must first do the dance of the banana, the hanasaurusrex's primary diet. This may lure the hanasaurusrex out of its den giving you the best opportunity to witness this terribly cute creature in its natural habitat. However, caution is advised, we strongly suggest you do not try to feed the hanasaurusrex. You could lose a finger! Rawr!
If you like to hunt and want to track the hanasaurusrex, you can start by looking in these places... Twitter, Facebook, Instagram, Flickr, and Pinterest.
HANASAURUSREX joined Society6 on January 17, 2010.