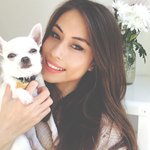 Handmade by Coco
Hello! Welcome to my Society6 shop. My name is Coco and I love art and design. A little more about me, I'm a halfling (NZ/Thai). I grew up on an island in Indonesia that was covered in jungle and surrounded by multiple, beautiful beaches as well as spending some time in both of my home countries. I now live in Melbourne, Australia which is a beautiful city which continues to surprise me after 4 years. I always love incorporating nature and cultural patterns into my artwork. My Society6 shop focuses mainly on paintings and drawings I have done as well as some graphic design. My passion however is the handmade dreamcatchers, macramé, wall-hangings and custom wood burned products I make, which I sell through artist markets and I'm in the process of creating an online store for. DISCLAIMER: I do not claim to hand make any of the society6 products, they are made by Society6 just as any other shop on this website, just to clear up any confusion - it is just what my blog/shop is called. I hope that you like what you find here. If you do and wish to support me then feel free to shop around or check out my other social media to keep up to date with me, and any new things I've created. https://www.facebook.com/handmadebycocoart https://instagram.com/handmadebycoco/ Handmade by Coco joined Society6 on December 8, 2014
More
Hello! Welcome to my Society6 shop. My name is Coco and I love art and design.
A little more about me, I'm a halfling (NZ/Thai). I grew up on an island in Indonesia that was covered in jungle and surrounded by multiple, beautiful beaches as well as spending some time in both of my home countries. I now live in Melbourne, Australia which is a beautiful city which continues to surprise me after 4 years. I always love incorporating nature and cultural patterns into my artwork. My Society6 shop focuses mainly on paintings and drawings I have done as well as some graphic design. My passion however is the handmade dreamcatchers, macramé, wall-hangings and custom wood burned products I make, which I sell through artist markets and I'm in the process of creating an online store for.
DISCLAIMER: I do not claim to hand make any of the society6 products, they are made by Society6 just as any other shop on this website, just to clear up any confusion - it is just what my blog/shop is called.
I hope that you like what you find here. If you do and wish to support me then feel free to shop around or check out my other social media to keep up to date with me, and any new things I've created.
https://www.facebook.com/handmadebycocoart https://instagram.com/handmadebycoco/
Handmade by Coco joined Society6 on December 8, 2014.