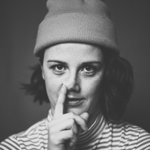 Hannah Emmett
Hannah Emmett is an Illustrator from Halifax, Nova Scotia, Canada. She moved across the continent to attend San Francisco's Academy of Art University, graduating in 2014 with her Bachelor of Fine Arts in Illustration. While in San Francisco she interned for a small creative business, volunteered at an independent art gallery, and got a job at Gap Inc., where she worked for a year after graduation, taking on the role of Design Coordinator for the Men's Design Team. Hannah is now back on the East Coast working as a Freelance Illustrator. She enjoys working in traditional mediums such as graphite, ink, and oil, and loves working digitally as well, sometimes combining multiple mediums to create mixed media works. Her work is heavily influenced by the music industry, as you can see through her abundance of portrait illustrations. Although Hannah's strongest interest is in portraiture, she also enjoys making poster art, and is currently in the process of starting her own little greeting card business. Hannah is always interested in taking on more artistic endeavors! @hannahemmettartwork hannahemmett1@gmail.com Hannah Emmett joined Society6 on November 14, 2014
More
Hannah Emmett is an Illustrator from Halifax, Nova Scotia, Canada. She moved across the continent to attend San Francisco's Academy of Art University, graduating in 2014 with her Bachelor of Fine Arts in Illustration. While in San Francisco she interned for a small creative business, volunteered at an independent art gallery, and got a job at Gap Inc., where she worked for a year after graduation, taking on the role of Design Coordinator for the Men's Design Team.
Hannah is now back on the East Coast working as a Freelance Illustrator. She enjoys working in traditional mediums such as graphite, ink, and oil, and loves working digitally as well, sometimes combining multiple mediums to create mixed media works. Her work is heavily influenced by the music industry, as you can see through her abundance of portrait illustrations. Although Hannah's strongest interest is in portraiture, she also enjoys making poster art, and is currently in the process of starting her own little greeting card business.
Hannah is always interested in taking on more artistic endeavors!
@hannahemmettartwork
hannahemmett1@gmail.com
Hannah Emmett joined Society6 on November 14, 2014.
Hannah Emmett's Store
64 results
Filter