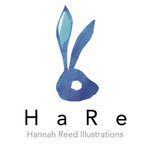 HaRe Illustration
Hannah Reed is a third year Graphic Arts student at Winchester School of Art, focusing mainly on illustration but moving into the 3D, motion graphics and editorial. She enjoys the use of collage, creating textures or finding already made textures to create worlds, characters or environments in order for the viewer to escape with also the use of strong colours and light. HaRe's Website: https://hare.squarespace.com/ HaRe's Tumblr: http://www.tumblr.com/blog/hareillustrations HaRe Illustration joined Society6 on December 12, 2013
More
Hannah Reed is a third year Graphic Arts student at Winchester School of Art, focusing mainly on illustration but moving into the 3D, motion graphics and editorial.
She enjoys the use of collage, creating textures or finding already made textures to create worlds, characters or environments in order for the viewer to escape with also the use of strong colours and light.
HaRe's Website: https://hare.squarespace.com/
HaRe's Tumblr: http://www.tumblr.com/blog/hareillustrations
HaRe Illustration joined Society6 on December 12, 2013.